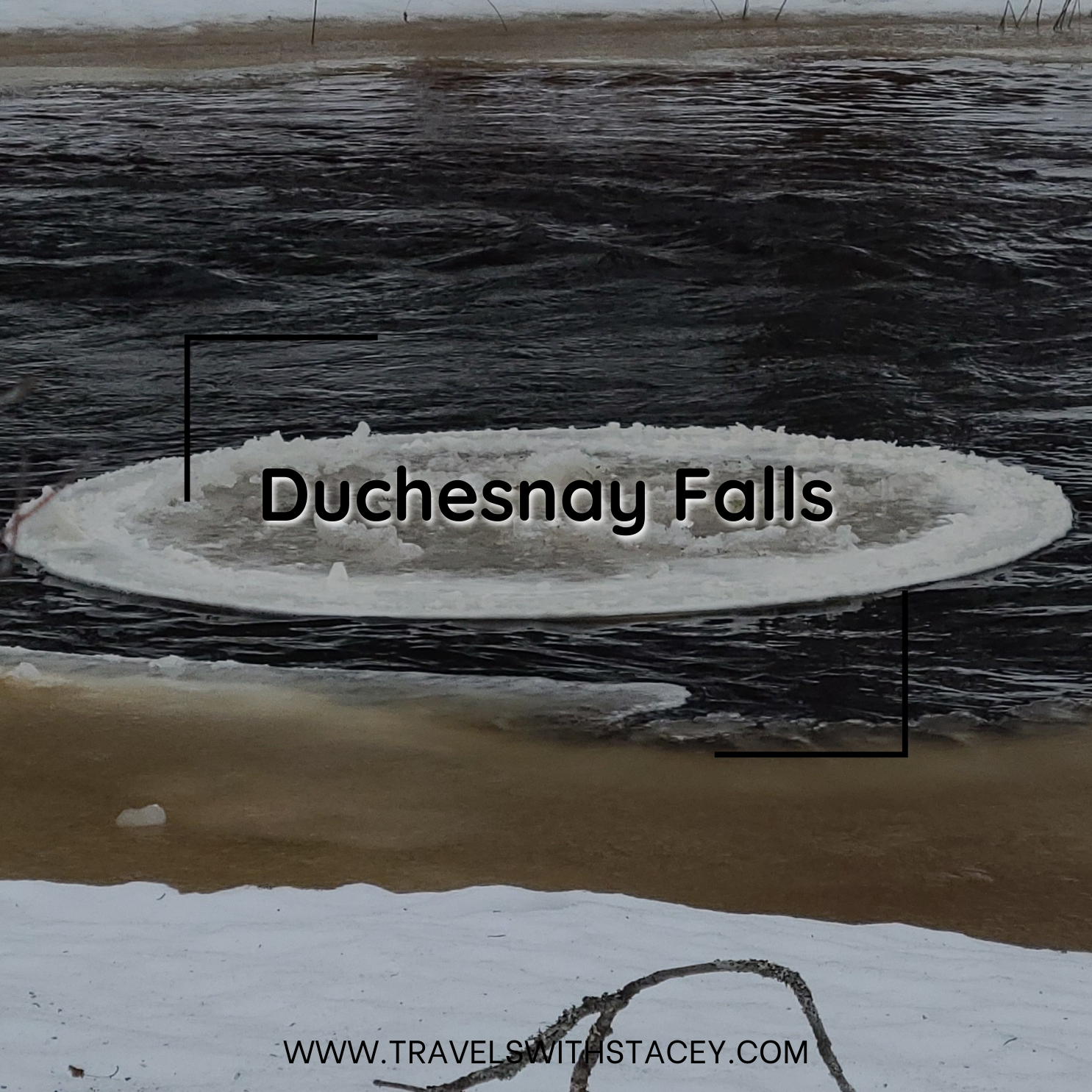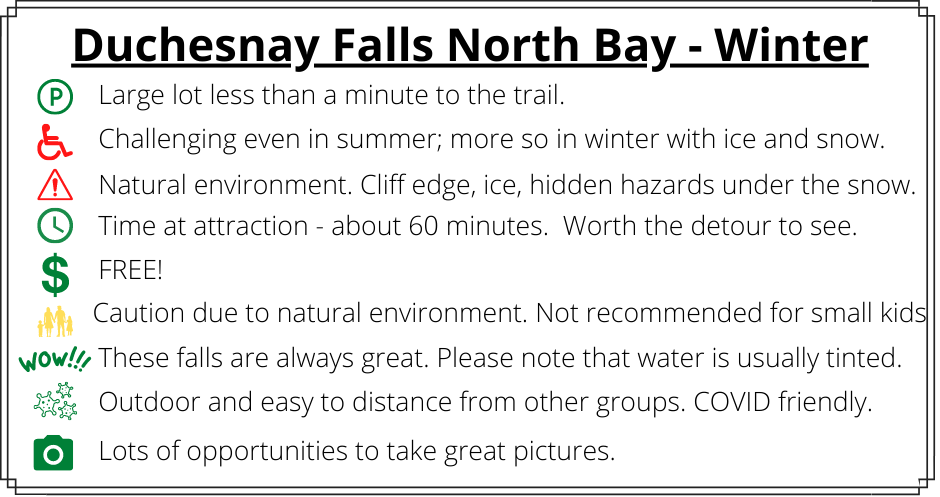 On the main road leading out of North Bay is a rather large parking lot for a waterfall and trail system. It is easy to spot, and there is always ample space available. This trail system is part of Nipissing University. We came here to see our favourite natural attractions – waterfalls.
Charlene and I visited this fall earlier in the year and were amazed by it. It instantly became her favourite fall of all time, and considering that she had given this distinction to many falls before this one, it does say a lot for Duchesnay Falls.
It is a cascade-style falls with many spots to view and explore. Its size is not overly big, but it delivers on the wow factor and seems to flow throughout the year. Unlike other falls, there is a clear path on both sides of the cascade and even has a well-maintained bridge to cross it. This allows a unique vantage to see both sides of the water falling and provides a circular pathway, which we enjoy so much more than a linear pathway where we have to repeat going out what we came in. The cascade does split into two distinct routes that cannot be seen from either side, so crossing the bridge is a must. The water always has a brownish tint because of the debris and silt. It can be a workout traversing this area, but there are ample places to rest with many rocks and ledges if you are okay with stumps or rocks to sit on.
On this visit, we came to see frozen falls. We only started doing it this year and seriously wondered why this was the first time we had done this. Frozen falls provide a unique view of waterfalls that is missed during the other seasons—opportunities to see exciting features and shapes in the water and ice. Waterfalls are constantly changing, and from season to season and even day to day, they are always unique and evolving.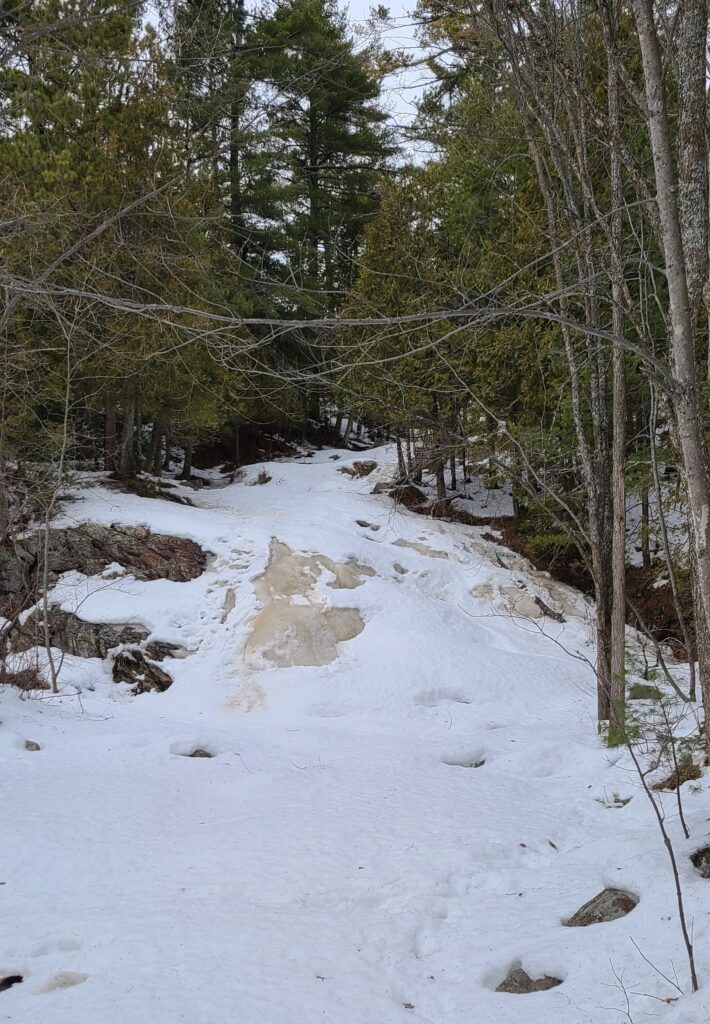 Visiting waterfalls does have some risks involved. Falls like Duchesnay are in a natural setting, and there are risks that include rock and cliff edges, roots and other trip hazards and holes. In the winter, snow and ice hide everything, and being aware of the surroundings is essential. I ignored my advice on this trip. It is less than a 30-second walk from the parking lot to the final drop in this falls, and when I got there, it was completely frozen. The scary part was that I was standing on the frozen river without knowing it at first. Luck had me standing on a rather thick spot of ice, but had I been a few feet over, and I could have had one wet experience on this cold wintry day. Casually I stepped off the river, took my picture, and led my wife up a slope to see more of these falls, and she was none the wiser of my error.
My initial disappointment of a totally frozen fall was immediately replaced with excitement that this would be a great stop. The water was flowing incredibly well, reinforcing my relief that I did not make a horrible mistake moments ago, and there was plenty of ice and snow surrounding this natural wonder. We would be treated with some icicle displays that made us question how they are formed, but the most impressive thing we saw was an ice circle.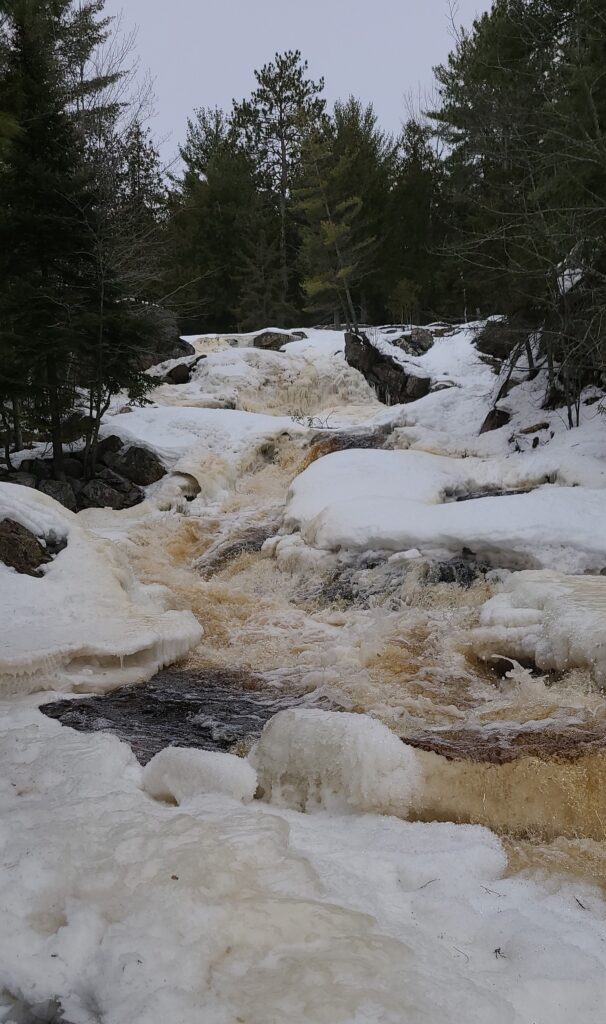 On the downward side of the trail, we would continue to see the frozen falls from a different angle.  Being winter with the snow and cold, significant parts of these falls were hidden away from sight.  What we were able to see still amazed us and left us wanting to see more of our favourite falls in the winter season.
We had spent about an hour in this area and were very impressed. Easy access. Delivers what it promises. Free! And above all, unique. No matter how many times we might visit this place, it will never be the same.