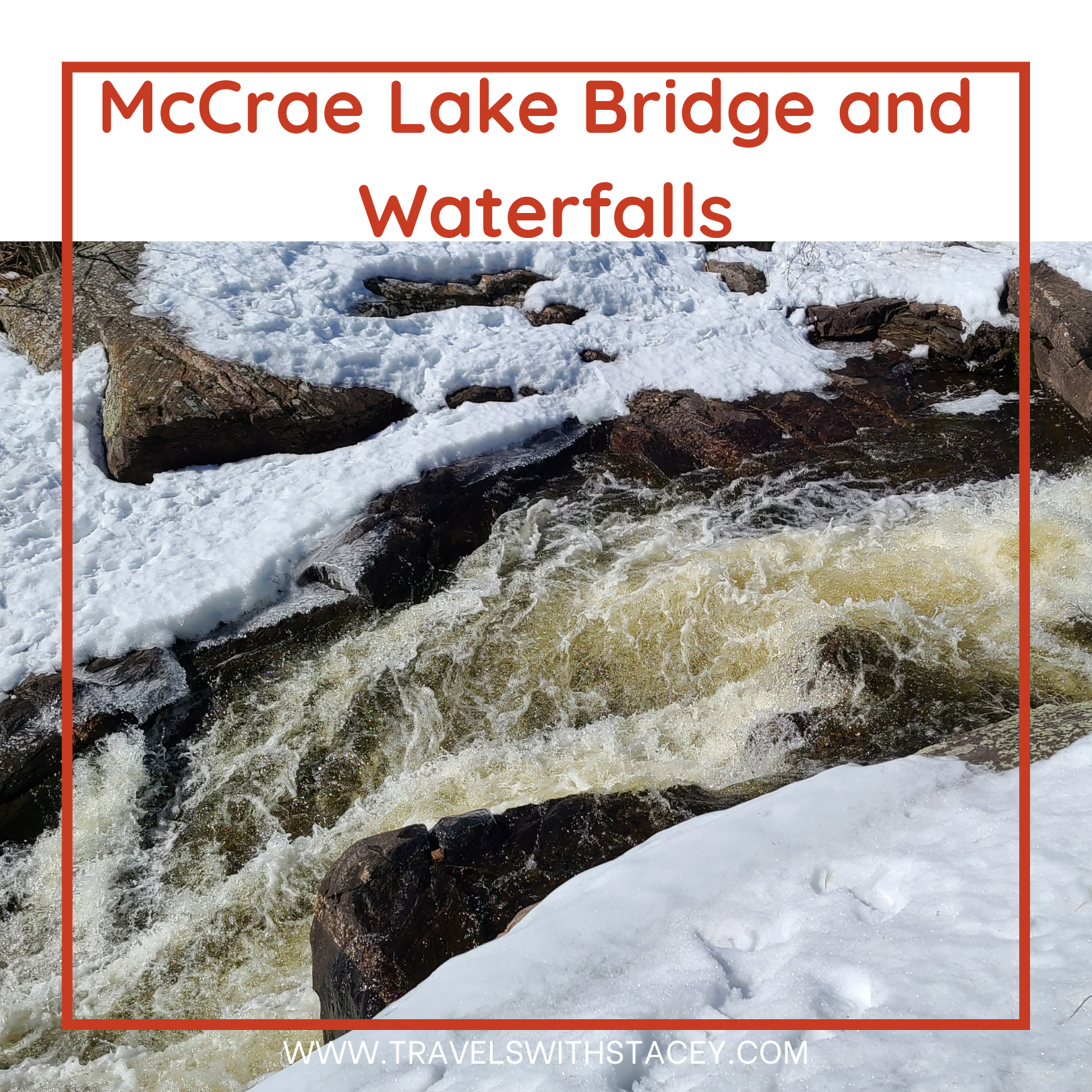 McCrae Lake Bridge and Waterfall is located in the Muskoka District of Ontario and is an especially beautiful place to visit in the winter.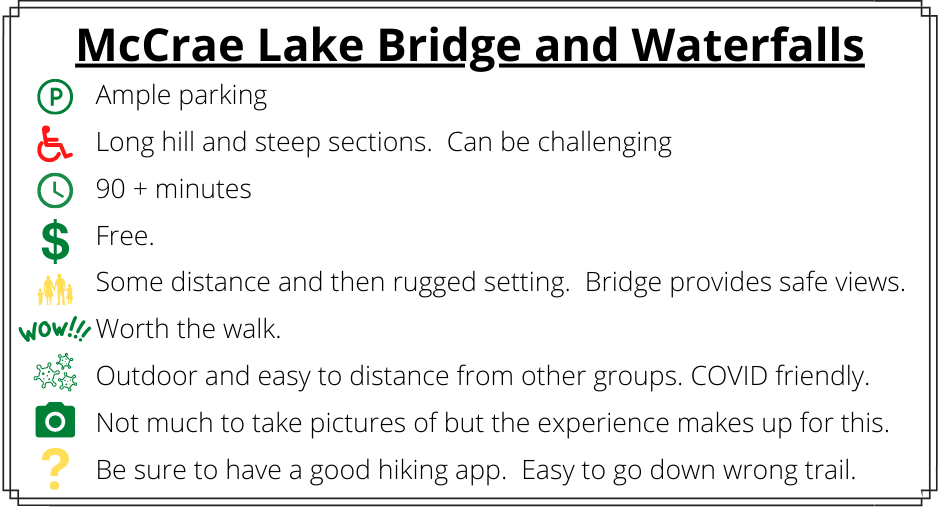 Our first visit to McCrae Lake Bridge and Waterfalls was not as smooth as I had anticipated,
I put a lot of research and planning into my trips. I find a place, see what information I can get on it and then do all I can to confirm what I have learned from the safety of my computer. Sometimes, all I have to go on is a one-sentence description with almost no details. What I had to go on for this place was a phrase that told me to walk down a snowmobile path to the bridge and waterfall—no mention of how to get to the path or even where to begin.
I had the route highlighted on my phone, and I have never been lost. With this confidence, I bring my wife to the location. It is popular, which is apparent because of the large parking lot. Besides the waterfalls, there are several trails to hike in this area.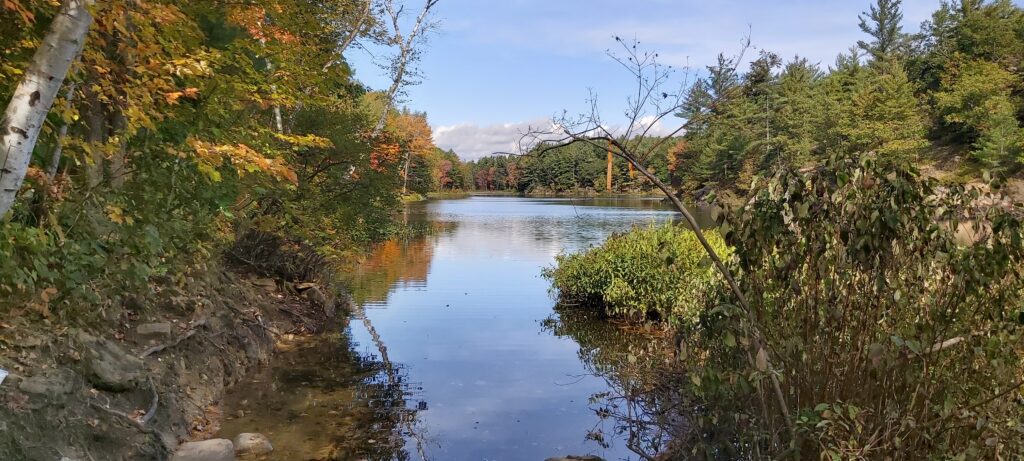 I arrived at this place with the confidence that I had a pretty good idea of where to go to see these falls. I was not as prepared as I liked. The first mistake I made was to go down the wrong trail. Not entirely a failure; it did allow us to see the lake named for this area. Pretty, I thought. Snapped a picture, apologized to the wife for the wrong path and then returned to the parking lot. There were enough people that I could see where they were starting, and to my embarrassment, the pathway I wanted to take was just a couple of spaces from where we parked.
Already at this point, my highlighted map on my phone had failed to work. A combination of no cellular access mixed with me having no idea what I was doing created tension between the wife and me. Charlene trusts me emphatically when we go somewhere, the idea that we could get lost is terrifying, and we have barely left the parking lot; things were not very reassuring. This would be highlighted at another destination that we travelled to, and we could have been stranded quite literally in the middle of nowhere—case in point, Paradise Lagoon.
We started on the right path this time and climbed a long hill. I buried my nose into my phone, trying to get it to work or somehow find some tiny detail on where I was. Doing so had me miss an important landmark, and it took far too long to figure this out. We must have walked a couple of kilometres when I stated that we should turn around. Upon doing so, I discovered the incredibly large and obvious trail that I was looking for and headed in the proper direction. I confirmed this when a couple walked toward us and asked if they had come from the falls.
We reached our destination after a walk. The falls itself are narrow but makes the effort to see it worth it. There is also a well-maintained bridge that goes over it. On the far side of the falls is a large, flat rock where people were picnicking.
Our first trip there and back was not very smooth.
Some tips that I learned from my first visit to this location are:
There are several hiking apps and I use a combination of two of them now to get a better idea on where to go and how far and how hard the hike may be.
One lesson that I learned should have been very obvious from the beginning. It is one thing I tell my kids whenever they get separated or lost from us: STOP MOVING! Had I stopped and found my bearings, our first trip to this location would have gone much better than it has.
Our second trip was a much better experience.
In the winter, this fall is accessible and with so many people visiting, it was easier to find it in the snow than in the summer because we could follow the route everyone else took. The falls had not even froze when we went to see it. It did have a nice flow, though, and I would make my way to the edge, which was hard to get to. The snow in some places was almost gone, and in other areas, it was knee-deep. Even on this winter day, groups of people on the far side were having a gathering.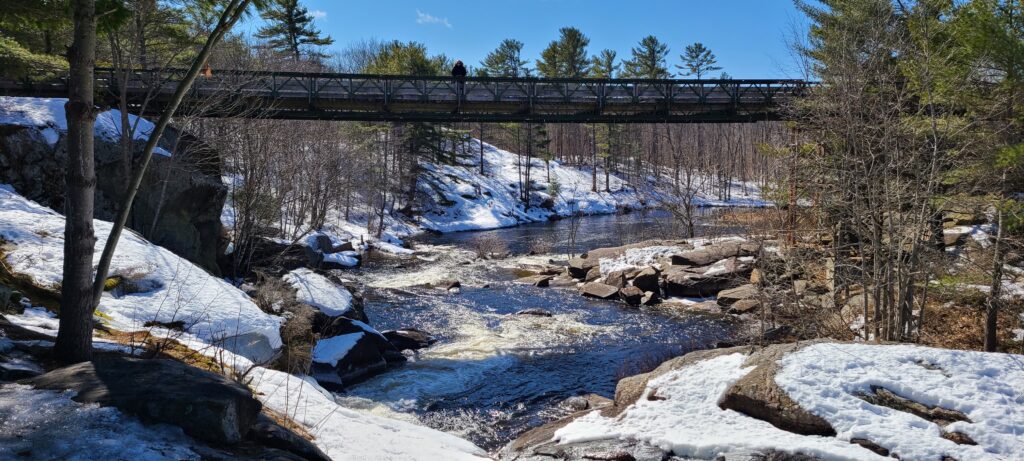 McCrae Lake Bridge and Waterfalls is a pleasant place to see. Once you know where to go, it is worth visiting every time. It is right off the highway with a large parking spot.
This and so many other places I have visited can be found on my Custom Google Maps Page and on my Google Featured Map. It will also show the parking location for McCrae lake.
Remember that winter hiking and especially near waterfalls can be very dangerous. Always be certain where you are walking. No need to ruin a perfect trip with a stupid accident.