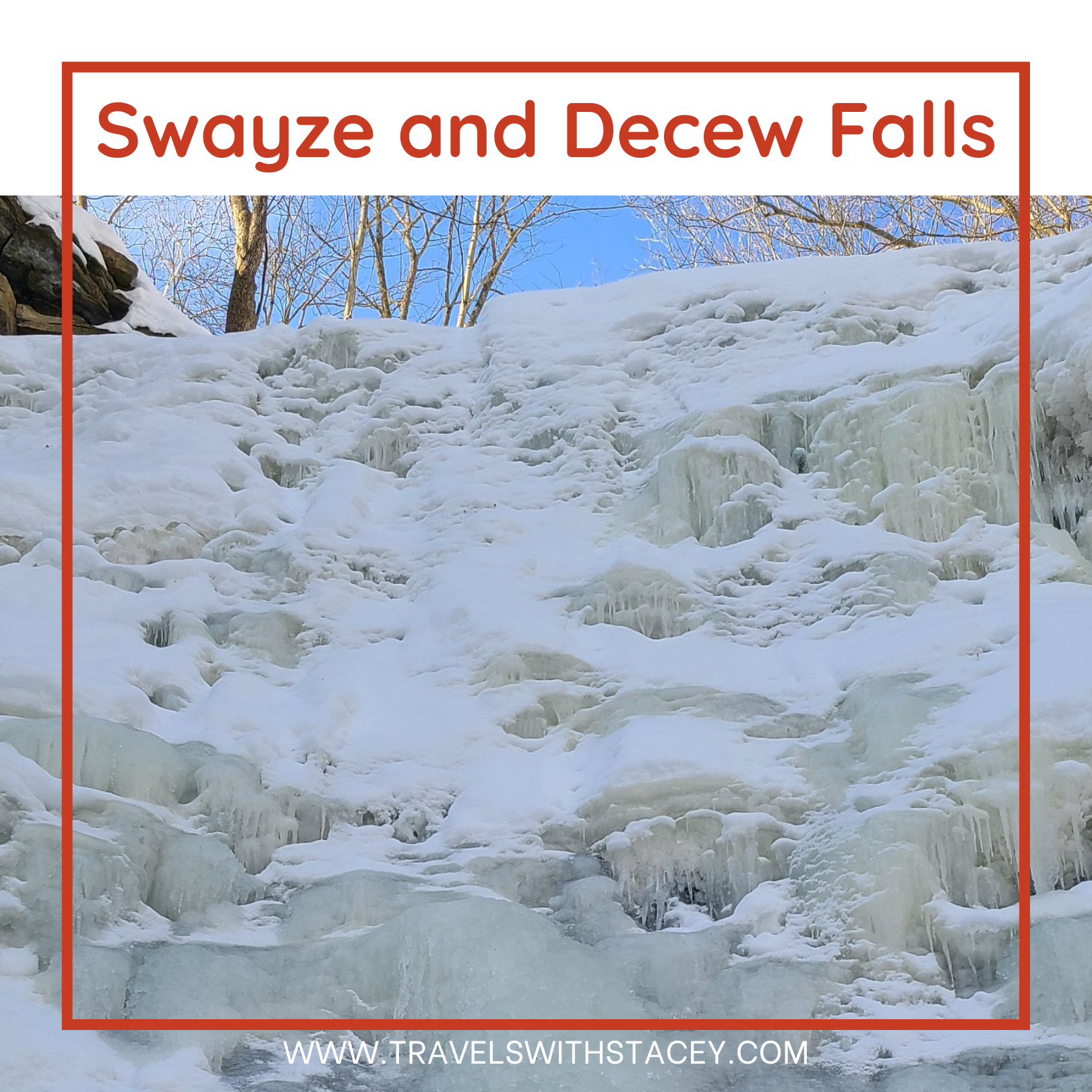 Swayze and Decew Waterfalls is located within Short Hills Provincial Park in Ontario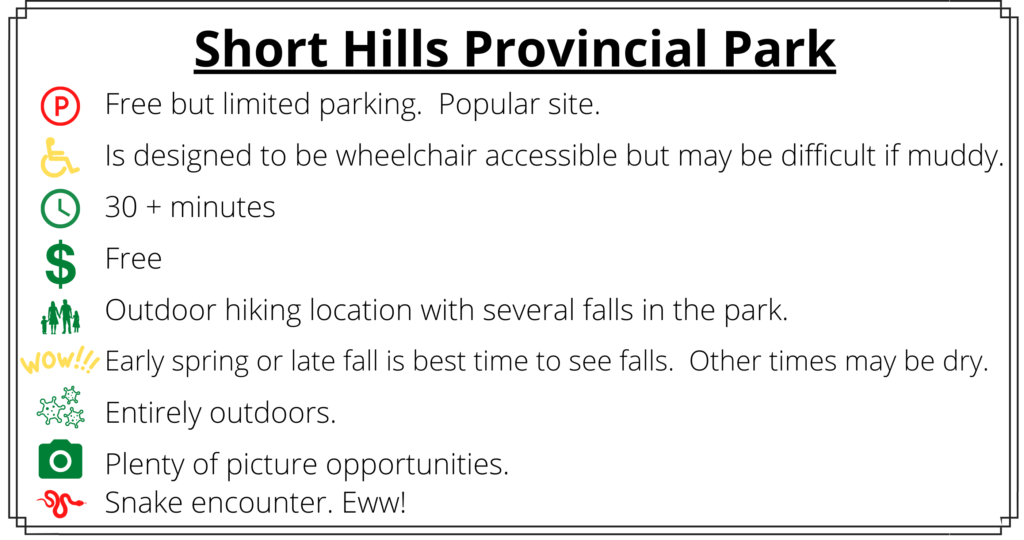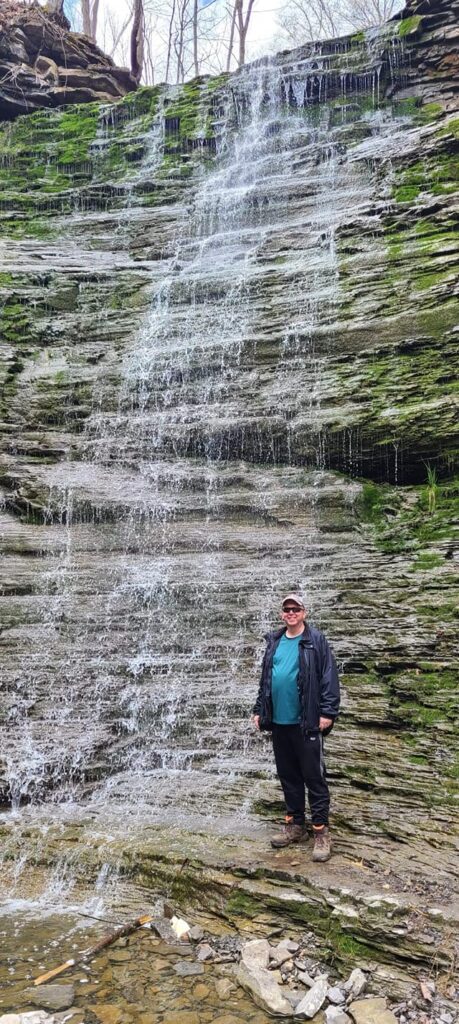 My only regret is that the days are not long enough.
Charlene was watching TV on a lazy Sunday morning. She has this amazing ability to multi-task and is also surfing Facebook simultaneously. She spotted a post about Swayze Falls.
"Yes, I know that place," I said to my wife, holding her phone and showing the post, "I considered going there yesterday. Did you want to go now?" She nodded her head in approval.
Now was a perfect time to go exploring. It had been raining all night and morning, and a quick check of the weather showed that it would stop raining by the time we got there. Within minutes of receiving my wife's request, I had the weather, a parking location and several other stops we could also do. All we had to do was get dressed and drive.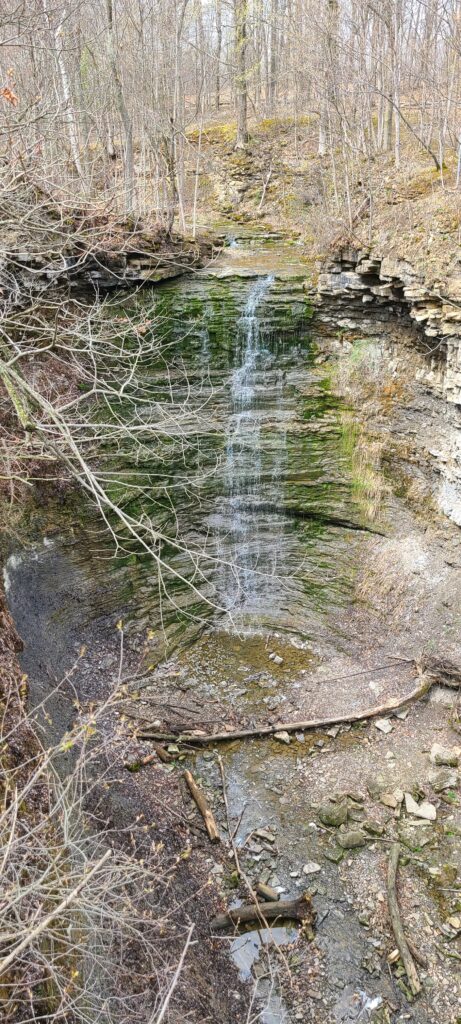 Short Hills Provincial Park is a charming location. Swayze Falls is close to the parking lot, so we see it from the top view within several minutes. This location prides itself in a broader path and a long, weaving ramp that allows a wheelchair safer access even where the hill becomes steep. Considering the rain, it was muddy and trying to bring a wheelchair to the top viewing platform may be somewhat tricky at times.
Like with every falls we see, we wanted to get to the bottom of it for an up-close and personal experience. Doing this took a little longer than anticipated. When we did reach the bottom, Swayze Falls became one of my favourites. It was a simple falls, and there can be beauty in simplicity. Raging falls are impressive at times, but these simple ones allow us to get up close and time to watch and listen. The sound of trickling water is relaxing and beautiful.
Waterfalling is good for the soul.
Heading back, we followed the stream for a bit. I saw flowers and had to take pictures.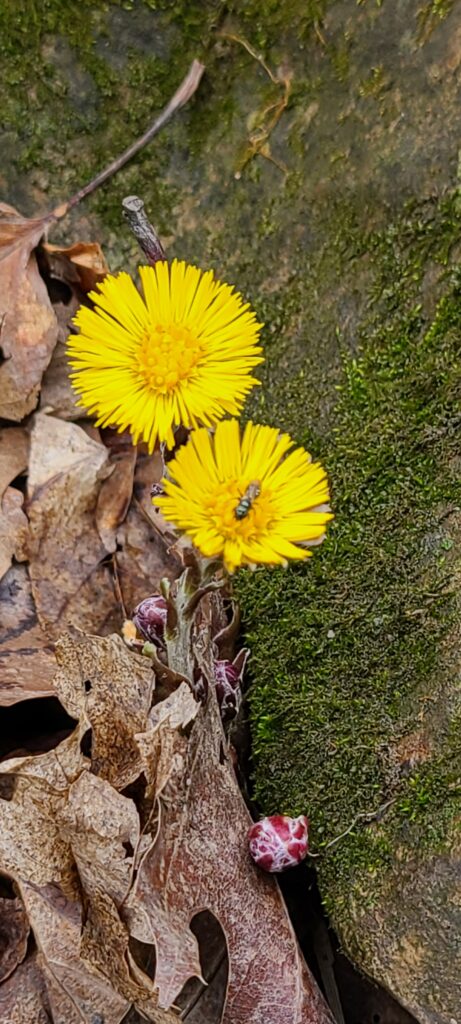 IMMEDIATELY there is a rustle in the leaves, and I was about to panic. Oh, wait, a toad.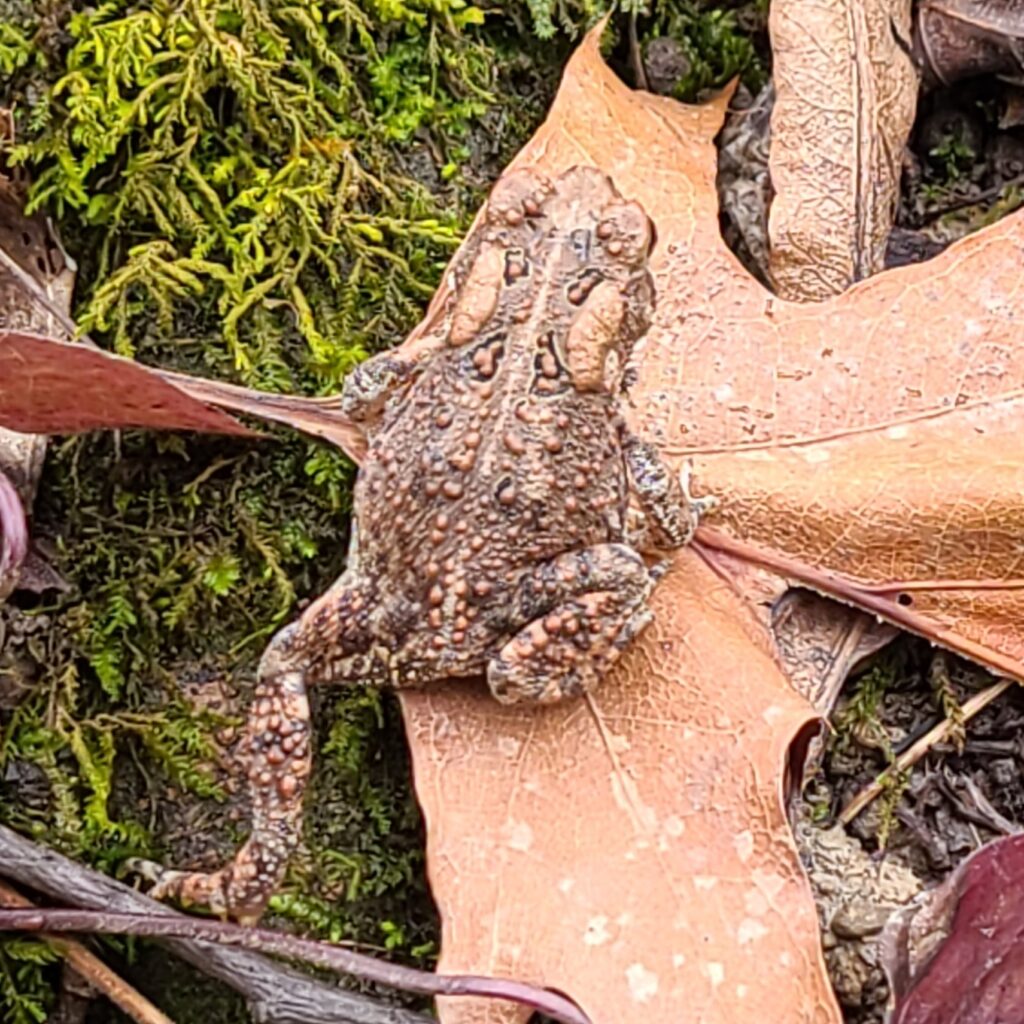 WHEW!
I caught up to Charlene, who had left me on my own, photographing the spring flowers. I tell her my old saying: "On a day when I see a frog, I always see a …" Before I could complete the sentence, nature completed it for me.
"SNAKE!"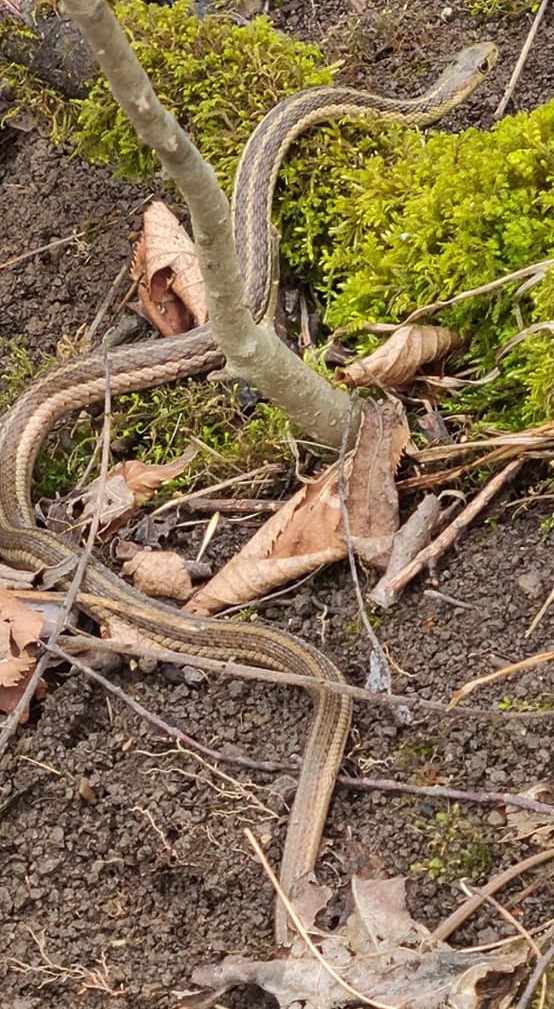 Panic.
Ugh.
I hate snakes—a long story about why the fear of snakes is so intense in me.
I stopped and watched it. I calmed myself and tried not to let it ruin the rest of my day.
Calming did nothing. The encounter did ruin the rest of the day for me.
I just could not relax at all. I kept scanning the ground, doing my best to spot them before they spotted me. What I hate most is hating the fact I hate snakes. I wish I were over this, but I am happy to say that I am gradually getting better with these nasty creatures.
We wandered around the park for a while, now with Charlene bravely leading the way to clear the path for me. We had decided to come back in the fall to see these falls with all the autumn colours. In fact, we revisited this site in the winter, and it was spectacular!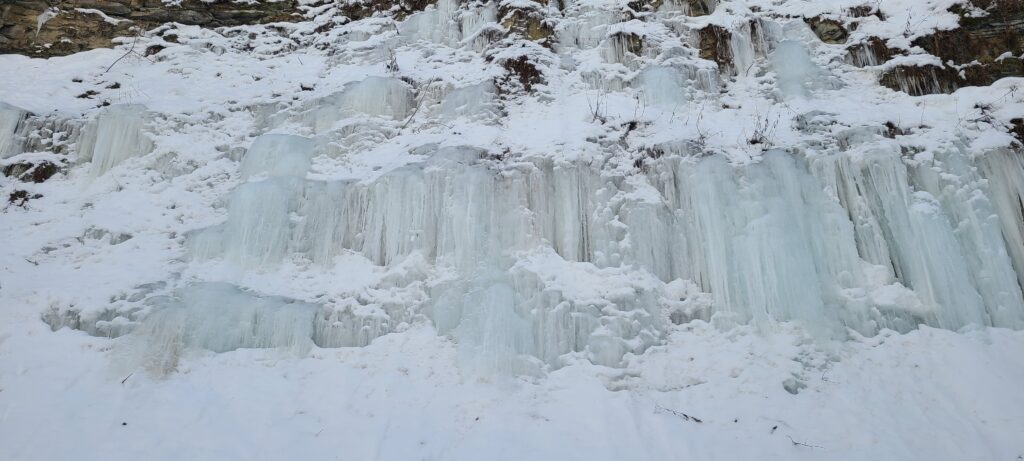 Decew Waterfalls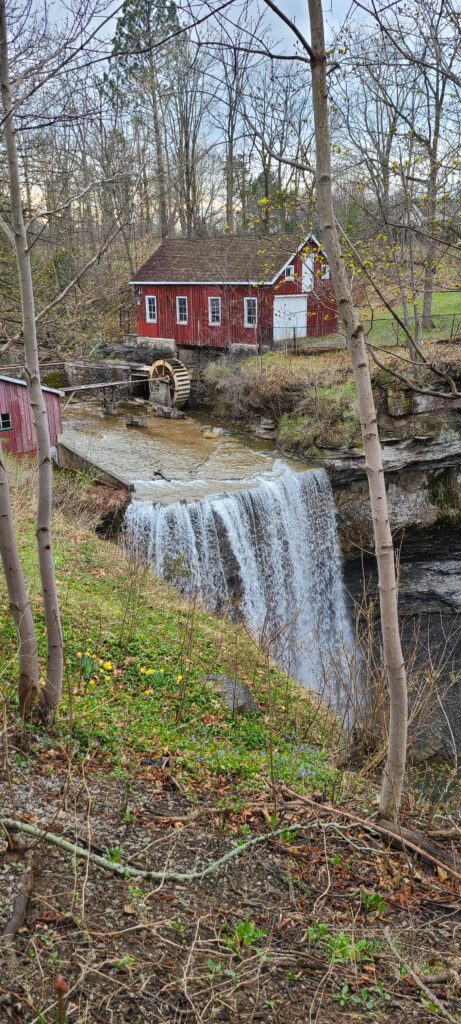 Decew Falls is just a short distance from Short Hills. At this location is a very picturesque waterfall that is a popular destination. Several historic buildings are open for visitors. The only problem is that the buildings are only "Open By Chance," and it always seems to be by chance that they are always closed when we are there. Upper Decew Falls is less than a minute from the parking lot. Being springtime, the water flow was impressive. We admired it for a moment, and then something caught our eye that we had never seen before: Faucet Falls. These ephemeral waterfalls poured right out of the rock. Never had we seen a falls like this before, especially one of this magnitude. We see people at the bottom of these two falls, and we decided we had to try.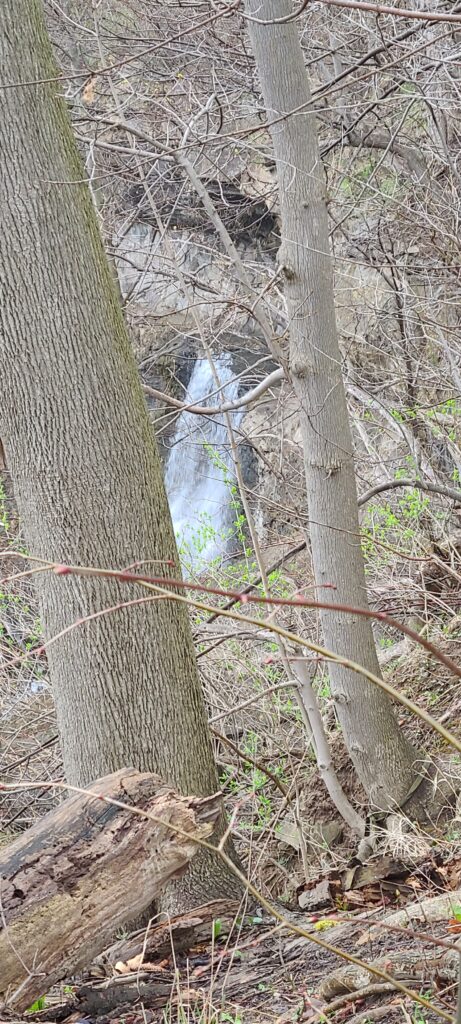 This was not our first visit to the bottom, and several times we have been here because of the relative ease of seeing it and the quaint little village that it is in. On our first trip here, we attempted to get to the bottom but were turned back by the incredible amount of mud and a very muddy, steep incline to get to the river's edge.
This time, we were determined.
The only reasonable access is a fair walk from the parking lot.
We had descended the steep incline, doing so at a slow and deliberate pace, planning our way down and also our way up when we returned. We quickly noticed that it is difficult to see other people's pathways. Instead, we go to the river and watch the smaller cascades and rapids and follow it to a waterfall that I had heard of, but could never see.
We discovered Lower Decew Falls almost entirely by accident.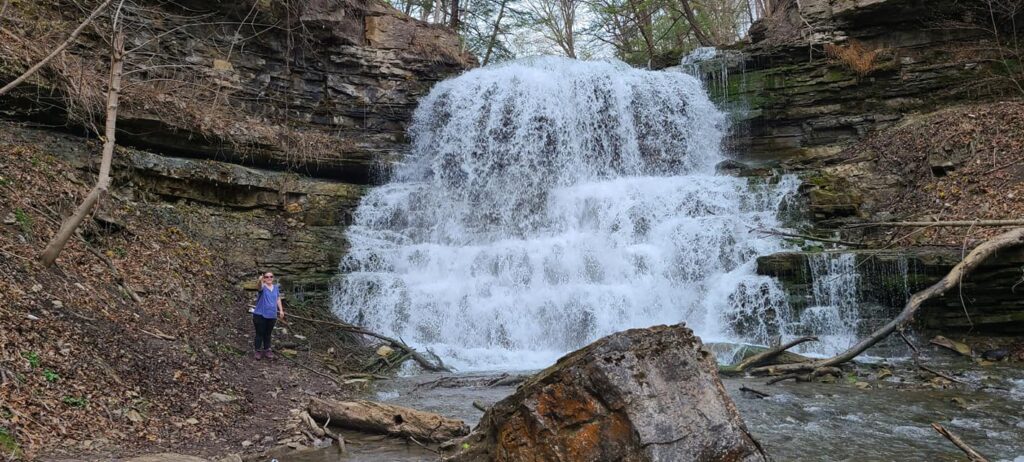 It was our first encounter with this feature, and we were quite excited about our discovery. We stopped for a bit to admire these new falls. I usually am the one that does the trailblazing, but this was the first time Charlene found a way to the base and posed for a picture.
It was at this point that it was starting to rain again. I had looked around and realized we would have to double back quite a ways to get to the path to Upper Decew and Faucet Falls. Being already muddy from the rain and thaw, I decided it may become too dangerous to continue.
We ventured back. It wasn't fun. Determination and a promise of a new discovery pushed us forward, and disappointment about not continuing dragged us down worse than the mud.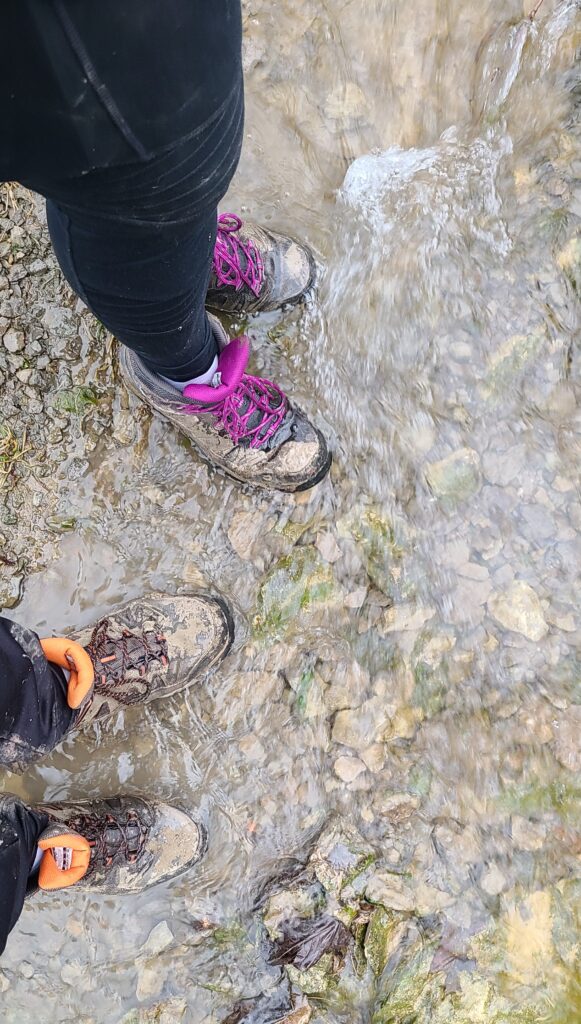 Before we would enter the car, we had to wash our shoes in the river.
The rain remained a mild drizzle. We then decided to head our way to Niagara Botanical Garden to see the blooming spring flowers.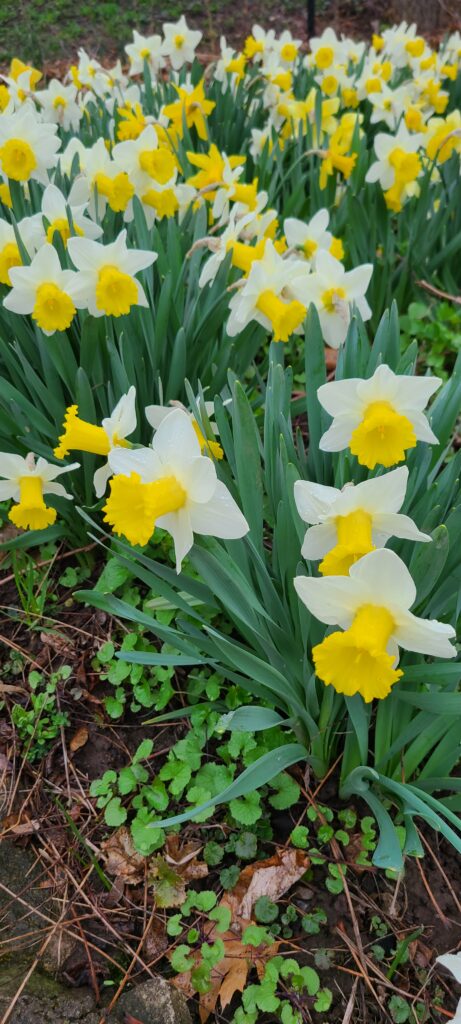 We had done so much and had so much more to do. My only regret is that the days are not long enough.