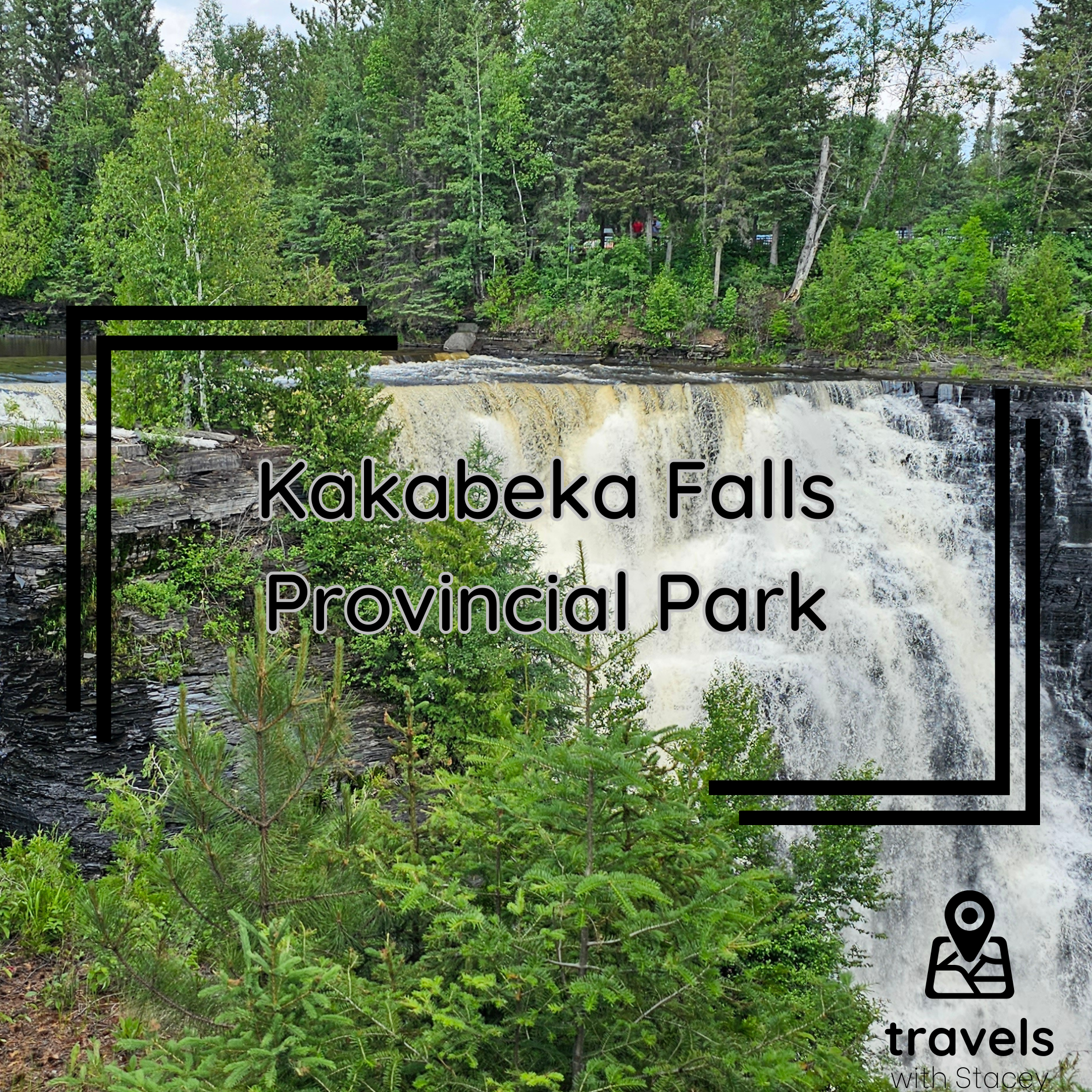 Kakabeka Falls Provincial Park was the last stop on our Thunder Bay trip a few years back. We arrived in the evening, and we were exhausted. We briefly looked at it, fighting the bright sun that was beginning to set. Considering how far and long we travelled to see this second-tallest waterfall in Ontario, it was only a few minutes that we stayed.
But not this time.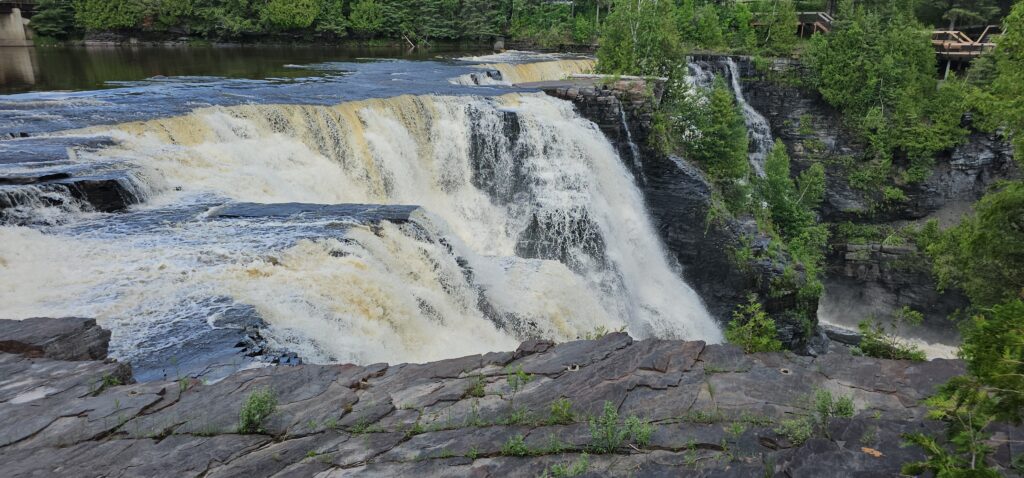 Kakabeka Falls Provincial Park also housed the campground at which we would be staying on the second night of our legendary 39-day trip to Alaska and back. Our site was only a few minutes walk to the falls, and we would have all the time in the world to watch one of our favourite natural spectacles – waterfalls.
I had chosen the perfect site. Well, it's almost perfect. The site we had the day before was the best we had ever had. Fushimi Lake Provincial Park campsite was as close to Heaven as we could imagine. Kakabeka could have been better.
I admit that this is an unfair review of what I would have considered an ideal campsite, but we were still in awe of Fushimi. Here in Kakabeka, our site was all by itself. It was one of the largest sites we had ever occupied and had no one around us – almost complete privacy. The only caveat was that it wasn't as close to the river as I expected.
At many campsite websites, the map to select the site isn't the same scale as other campgrounds. Even those run by the same people use different scales and styles to depict their grounds. From the website, it looked like we would be camping right next to the river that led directly to the falls. Instead, a thick band of trees blocked the river's access and the sound of the water flowing through. Still a fantastic site, but I was disappointed that we had no river access.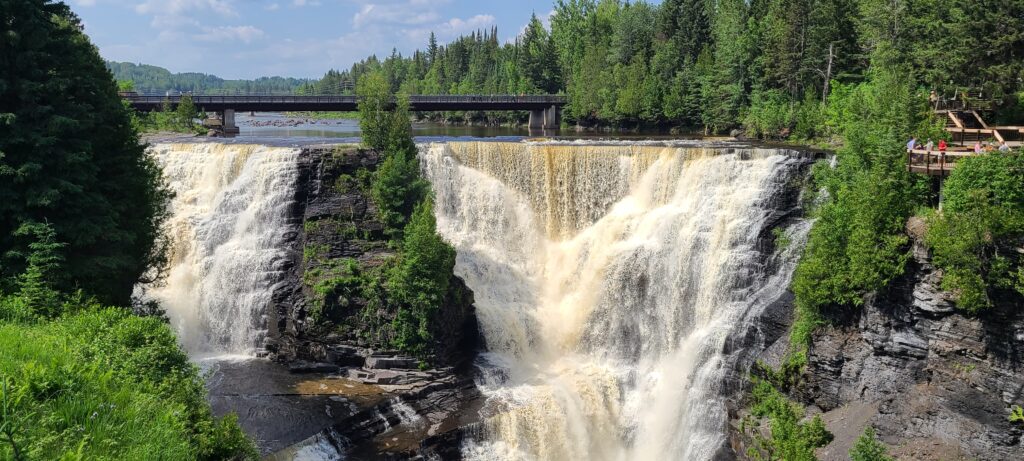 It was a small disappointment considering what we would experience in a month, but that is a much better story that will be told later.
After setting up the tent, which was really quick since we bought a Coleman quick-setup tent. Gone were the days of spending an hour constructing our shelter. Now, we can do it from beginning to end, including the complete bedding setup, in about 20 minutes. We now had so much more time to explore the campground or sit and relax; after all, we were on vacation.
Our priority after setup was the visitor centre. Even though we were staying overnight, the visitor centre and gift shop were closing soon, and we wanted to ensure we saw what they offered. Then we went to view the falls. Accessible to both sides via a bridge/roadway, we could gander at it from many angles. It was worth the time we spent there. Three years ago, exhausted, we just glanced and left. This day, we stayed and enjoyed the view. I almost wanted to make our dinner on one of the viewing platforms.
Kakabeka Falls is 40 metres high and rivals Niagara Falls. It is nicknamed "Niagara of the North," and so much of it is similar to Niagara in the south. Both of these falls attract hundreds of spectators every day. Both plunge a great height. Both have a lengthy gorge that has been carved from the falling water. Both are just stunning to admire. And both have no access to the bottom of the falls. This is understandable due to the unstable rocks that make up the gorge and is a long way down.
Unlike Niagara, Kakabeka has a fee to see. This fee provides access to the grounds, viewing the falls, and hiking the many trails, including one with another waterfall. We chose not to do this fall because the path is described as difficult because one section is very steep. Next time, we will explore it. We still needed to eat, and having a big hike might be a little much with a full belly.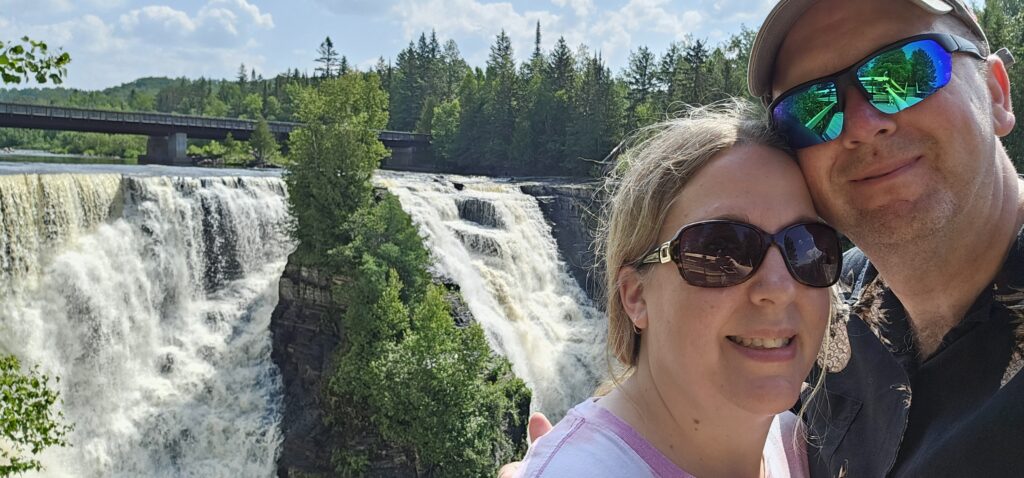 Kakabeka Falls and the provincial park that it is in is a place we will explore again. The campsite was well maintained and the one we had had a great deal of privacy. We will return here to use the grounds for a night or two.
Destinations on our Alaskan Trip:
High Rock Lookout DAY 1 – JULY 1, 2023
Marten River Pickerel
Arctic/Atlantic Watershed
20-Foot Tall Guy-Paul Treefall
49th Parallel Park
Fauquier-Strickland Heritage Park
Moonbeam UFO
Kapuskasing Cenotaph
Voyageur at Missinaibi River
Moose and Wolves statue in Hearst
Our Veterans Park
Fushimi Lake Provincial Park
Arctic Watershed DAY 2 – JULY 2, 2023
World's Largest Snowman
Kakabeka Falls Provincial Park