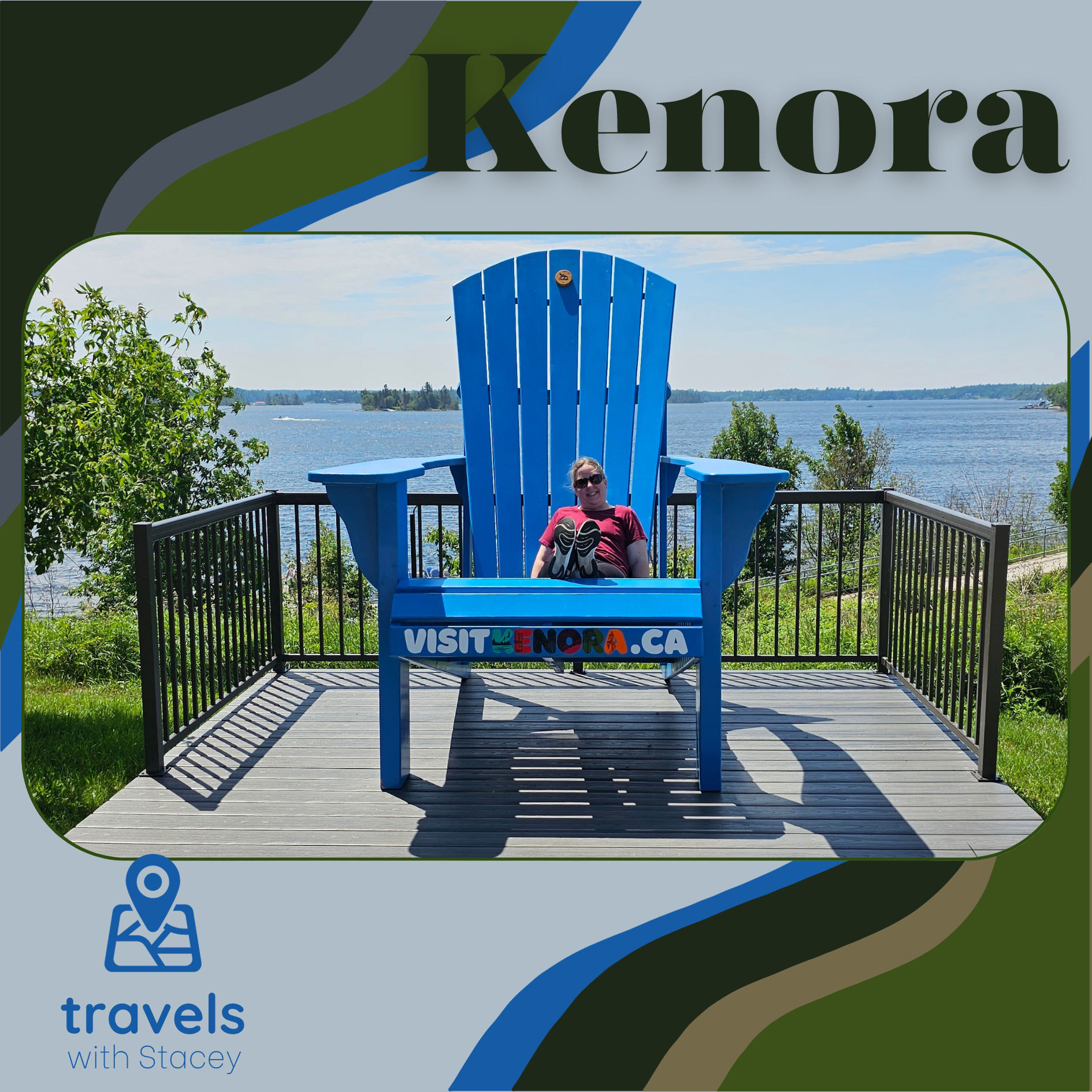 The northern city of Kenora was our last major Ontario stop on our recent travel of the continent and, ultimately, to Alaska. Although we could only afford to spend a few hours in this great town by the lake, we captured as much of it as possible.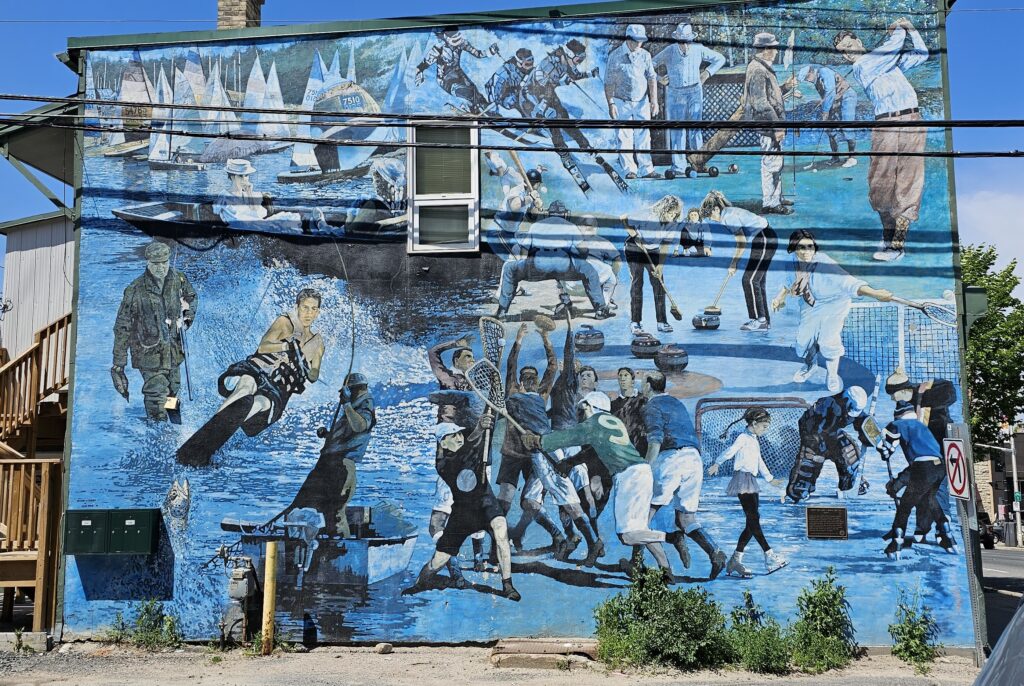 Like many communities, Kenora has a collection of murals scattered around town. These are meant to make the area more beautiful, educate on local history and get people out and about, precisely what Charlene and I did. We enjoy searching for these forms of art. Walking around looking for public art is far more enjoyable than a slow pace inside a fancy art gallery. There becomes a connection between the community and the area in which the art is set in. Walking allows us to feel the neighbourhood and what it means to live there.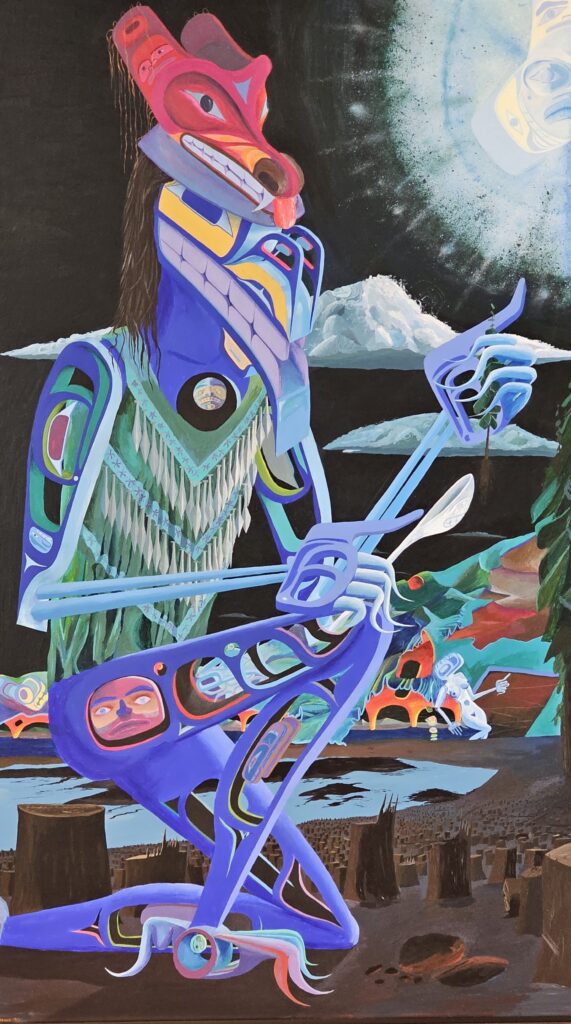 The mural tour would be the first of our sightings in Kenora. Our second and third was The Muse – Lake of the Woods Museum and the Art Centre across the street. Yes, I know. I am about to sound like a hypocrite when I say I love art galleries and museums. Yes, the free art outside has its great value, but there is something nice about themed collections that cannot go outside in the summer heat and rain. Plus, it is generally air-conditioned inside; still, what is inside is typically good.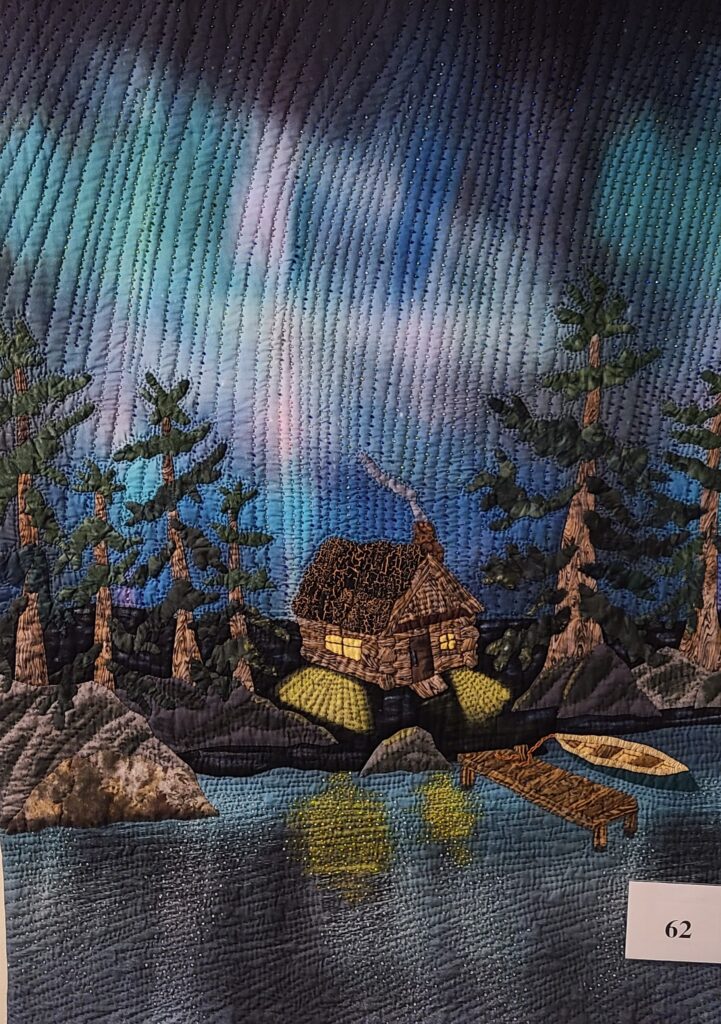 When we arrived at The Muse, a museum dedicated to sharing the items important to the local area, there was an incredible display of quilts. Quilts can be easily overlooked, and the effort in making them needs to be appreciated. I initially noticed the colours on one design, and then as I gazed closer, I saw the stitching and pondered the time and skill needed to make this age-old craft. I was disappointed that there weren't more quilts on display since the ones being shown were of such excellent quality.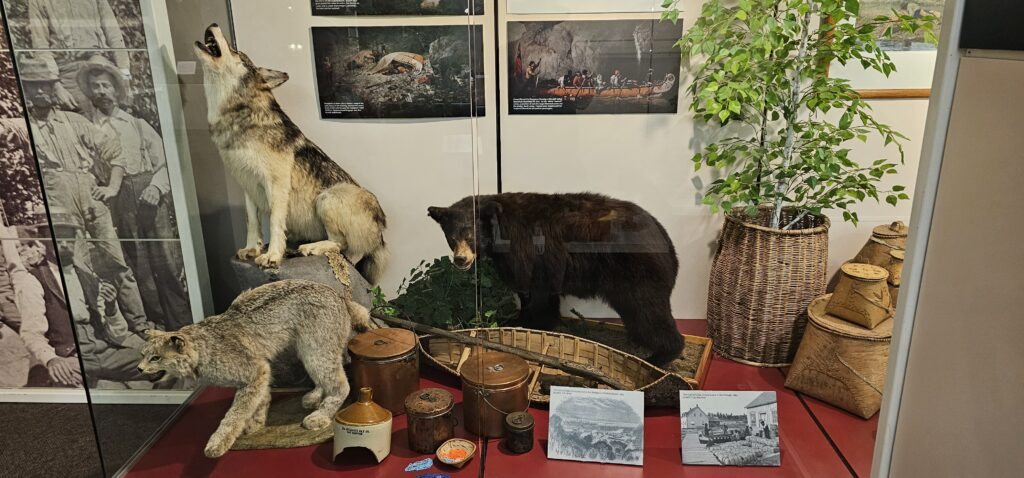 Like many other community museums, there were displays of local sports history, the First People, early industry, a selection of creepy dolls, and regional wildlife. For a community museum, it was rather large. Some of these museums can only be converted houses, but this one is a dedicated building to share and display local history.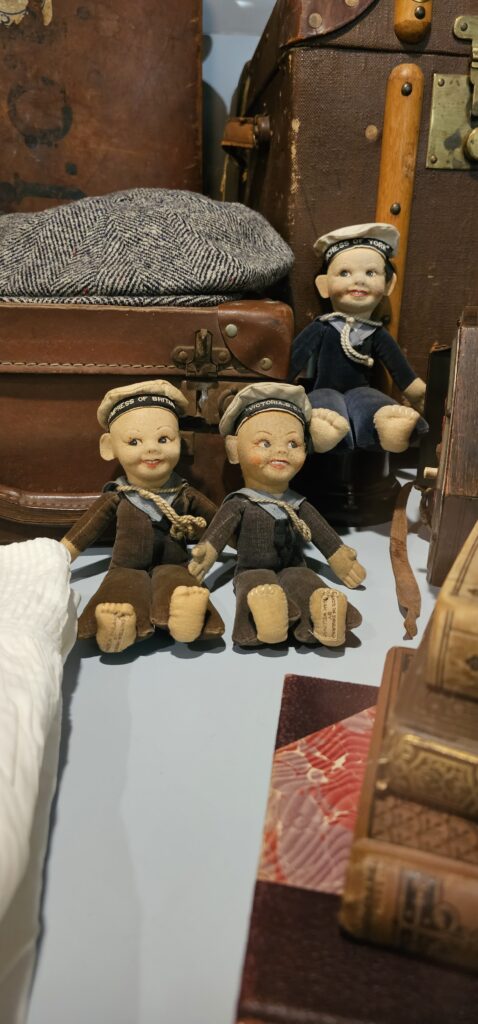 Across the street and with a small additional fee for admission of the museum is The Art Centre. It is a small location where we spent 15 minutes. The Muse had us there for the better part of an hour. The Art Centre does rotate its exhibits, so it is a different experience throughout the years.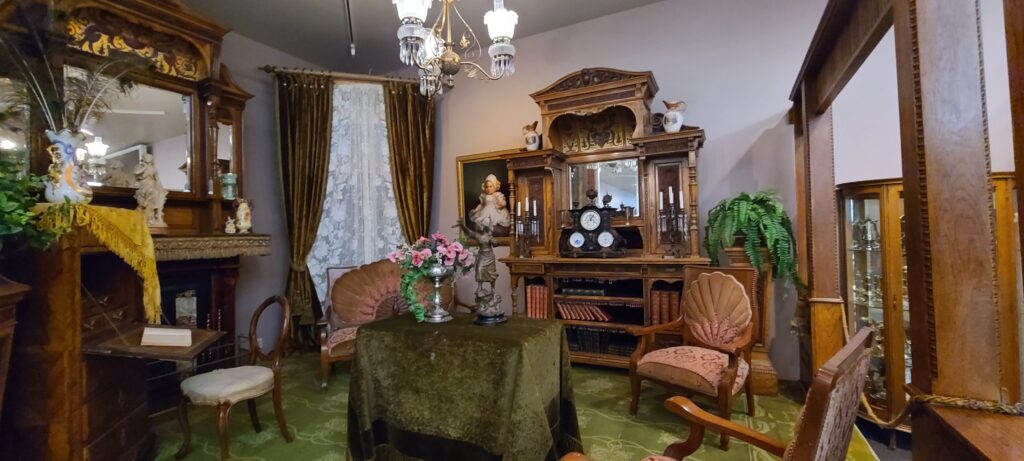 After these locations, we continued west for a short distance. We popped into McLeod Park to see Husky the Muskie. This was a very picturesque park with some beautiful scenic views. It is clearly meant to be a place of beauty and somewhere to unwind. There is a tugboat, gardens, a fountain and, of course, the big fish.
Our last place was Lake of the Woods Discovery Centre. This is the place to go for tourist information for Kenora and the surrounding area. I know there is more to do here and surroundings, but alas, we needed to be moving toward our goal on this day.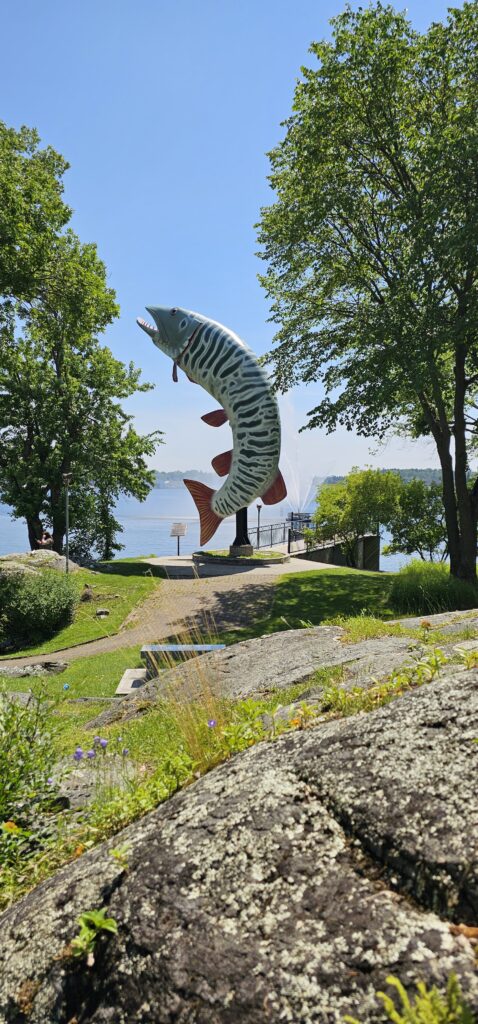 Kenora is hard to miss. It is home to the only main road out of Ontario to the rest of the country out west. There is art, culture, history, and entertainment, and some of the most incredible nature completely surrounds it.
To find the directions to these locations, check out the Featured Map for this and many other places we have been to.
The fee to enter The Muse and The Art Centre is reasonable.
Many picture opportunities.
Expect to spend a few hours visiting these sites.
Family-friendly site.
Destinations on our Alaskan Trip:
DAY 1 – JULY 1- 2023
Marten River Pickerel
Arctic/Atlantic Watershed
20-Foot Tall Guy-Paul Treefall
49th Parallel Park
Fauquier-Strickland Heritage Park
Moonbeam UFO
Kapuskasing Cenotaph
Voyageur at Missinaibi River
Moose and Wolves statue in Hearst
Our Veterans Park
Fushimi Lake Provincial Park
DAY 2 – JULY 2, 2023
Arctic Watershed
World's Largest Snowman
DAY 3 – JULY 3, 2023
Last Spike at Feist Lake
Kenora mural tour
The Muse/Art Centre
Lake of the Woods Discovery Centre
Manitoba Welcomes You Border Sign
Birds Hill Provincial Park